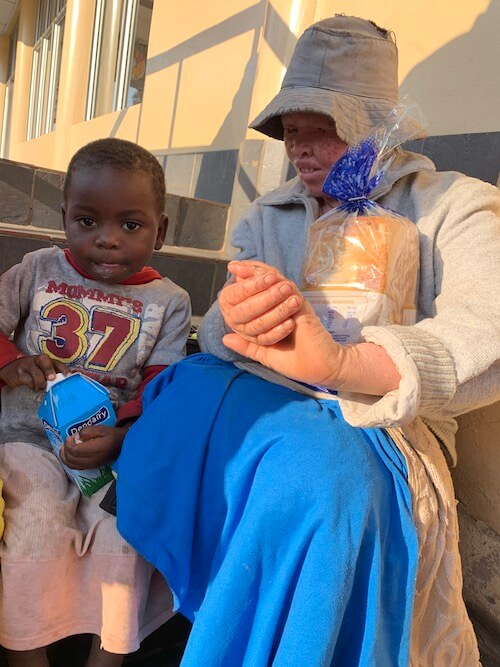 By Fred Chindito
Chipo Siakabwa was born in 1982. She is aged 38. She is albino and blind.
Currently she is living in a shack at someone's residential stand where she is paying a rental fee of US$15 per month. 4 Children are going to school though they can't afford to pay school fees.
She was born normal. She could see though the vision was blurring as with all other albinos.
She went to school and had to sit closer to the black board so to have a better vision.
In 2000 she developed some sores in her eyes where blood would clot/come out.
She went to Parirenyatwa General Hospital and was diagnosed with Skin Cancer. The doctors had to remove worn out tissues from her eyes and eye lids to replace with other tissues from all other parts of the body.
She was kept at Parirenyatwa for 6 years.
In 2006 she went to stay at home. She started to go to Parirenyatwa for reviews up until 2012. From then she never had a proper hospital attendance. Right now she is suffering from a burning and painful sensation in her right eye. Just inside the top eyelid.
Family and Social welfare
In 2001 Chipo got married to in a polygamous marriage. She was the 3rd and last wife. The husband was black and had his eyesight. At this time, ref above, Chipo only had 1 eye which was still functioning but not 100%. In 2003 she became completely blind. The husband left him alleging that he could not stay with someone who can't help herself. They had 1 child Bulangizi, born in 2001.
Period 2002 to 2006 – Chipo would receive financial assistance from the Social Welfare of Zimbabwe. This ended when Zimbabwe dollarized.
In 2006 Chipo married again to a blind and crippled man. The marriage only lasted for 6 years as the parents of the man couldn't want it to continue alluding that they can't help both the husband and Chipo. They have 2 girls together. The husband still visits them, not on regular basis. He just visits and cannot afford any help to the family.
In 2012 Chipo married again to a blind man and had 2 children a boy and a girl. The man unfortunately died in 2017. He was buried in Bulawayo by Chipo and the relatives. The relatives are not helping Chipo in any way.
Children
Bulangizi (Meaning HOPE) – Born in 2001, got married 2019. Girl
Persistence – Born 2007. Girl
Regret – Born 2010, Named after father's parents were not accepting the mother. Girl
Bululami (meaning FAITH) – Born 2013. Boy
Bubotu (meaning TO BE GOOD) – Born 2016. Girl
Children were all named by the mother.